A Tough Decision that Worked Out
May 15, 2014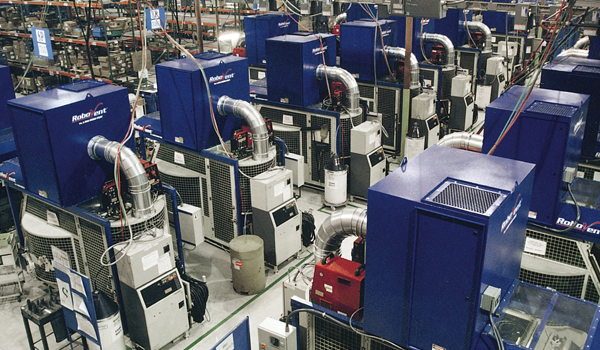 Five years ago Toyo Seat Programs Planning Manager Ken Swanstrom was nervous when he walked down the hall with a purchase requisition to buy a new air filtration system for a new welding line at the Imlay City, Michigan plant.
Toyo Seat had added various air filtration systems as the plant grew, but they were still seeing smoke in the plant and some of their fume collectors had caught fire. Management made the decision to renew its commitment to air filtration by making the investment needed to capture all fumes, smoke, reduce the risk of fires, and improve employee safety.
"I was going out on a limb and there were a lot of people watching me to see if I made the right decision," Swanstrom said of his decision to use RoboVent® air filtration products from RoboVent Product Group.
Five years later Toyo Seat management and Swanstrom are sure the decision to invest in improving air filtration was a good one.
Air quality has improved inside the plant and Tim Dufort, Plant Superintendent, credits cleaner air for having a positive affect on employee motivation, absenteeism and productivity. Dufort says customers have also noticed cleaner air in the plant. "We have people visit here and say: 'This is a welding shop?'" Dufort said.
Toyo Seat is a tier two manufacturer of seat parts including seat frames, seat backs and recliner mechanisms for a variety of auto manufacturers. Toyo Seat uses a variety of welding processes including 70 welding robots.
Conserving floor space was a huge issue for Toyo Seat as they looked at air filtration systems. "We said we wanted floor space conserved and (RoboVent) came up with the FloorSaver system," Swanstrom said of the RoboVent™ air filtration system that mounts on top of a robotic welding cell and makes no footprint in the plant.
Toyo Seat's investment in air filtration and the RoboVent® systems have met the expectations of management, and proven to have a positive effect on working conditions as well as protecting the environment.