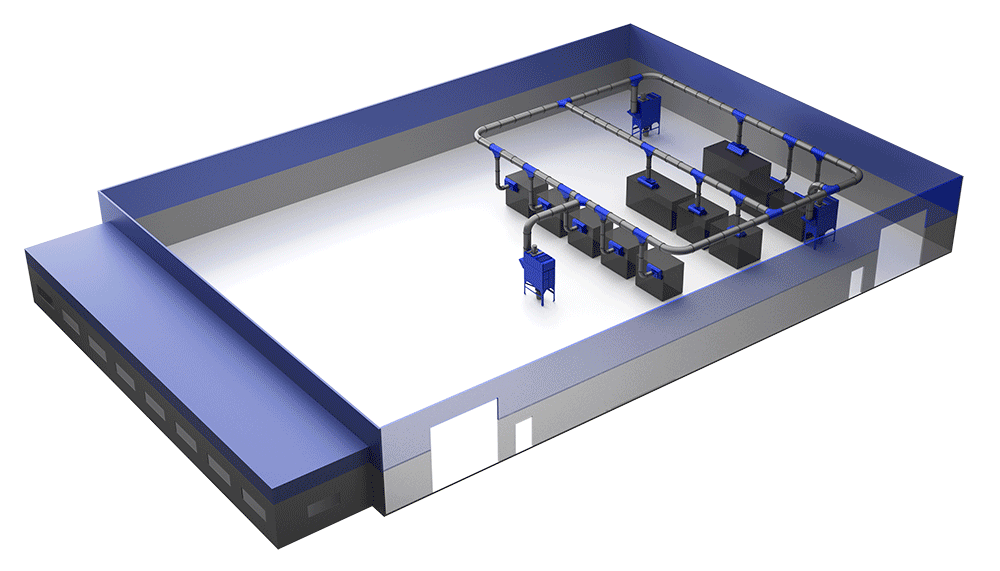 A modular, flexible and future-proof solution
When you want the efficiency and energy savings of a centralized ducted system, but with flexibility to move components if needed, consider RoboVent's Grid Configuration.
Grid gives you the flexibility of mobile source capture systems with the efficiency of a centralized ducted system. It's a whole-facility solution consisting of modular, standardized ductwork and components that can be easily reconfigured as your needs change. The Grid system is:
Energy efficient: The ducted grid system only needs 70% of the airflow used by individual units, delivering significant energy savings over time.
Modular: We use standardized, modular components to make installation of your custom system fast and easy.
Low-maintenance: Our Smart Gate™ Auto Cleaning system directs airflow to clear debris from the system automatically, reducing manual cleaning requirements.
Flexible: Move components around, expand or reduce capacity, and adjust your system to your new requirements. Modular components and QuickClamp ductwork make it easy to change your configuration as your needs change.